No more Sunday-less OUAT days for a long while, but for some (very lucky) fans, they got to see the premiere (and past and present cast members) last night at the El Capitan Theatre in L.A.
So while I was not there (but, boy, do I wish), I followed a lot of the news, Tweets, photos, and saw some teasers about the season 4 premiere "A Tale of Two Sisters."
Now for a bit of round-up.
Cast Members: There were a lot of stars from the show both series regulars (including
new addition Michael Socha), as well as popular guest stars from season 1 (Hey, there Eion Bailey & Jessy Schram). Villains (Robbie Kay & Rebecca Mader), heros (Sean Maguire & Raphael Sbarge), and some Frozen additions (Scott Michael Foster) were all present to walk the carpet and see the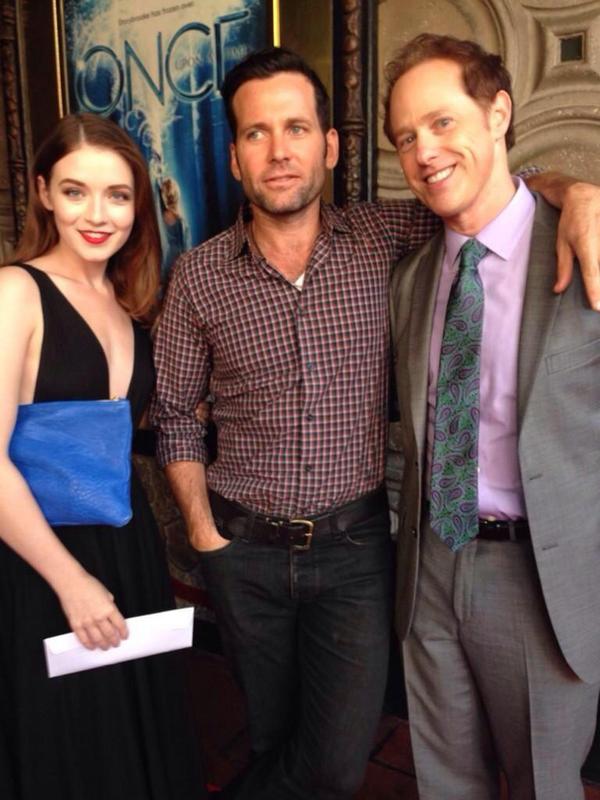 premiere.
Interviews: A lot of new clues were revealed by the cast about the new season. Jared Gilmore told Variety about working with Grandpa Gold in his shop, Jennifer Morrison also told Variety about delving more into Emma's past in the foster system, but let's not forget Ginnifer Goodwin telling E! about her and Josh Dallas' new bundle of joy, Oliver, born in May, and what it's like bringing him to set.
Introductions: Before the screening, Adam Horowitz and Eddy Kitsis, creators and exec-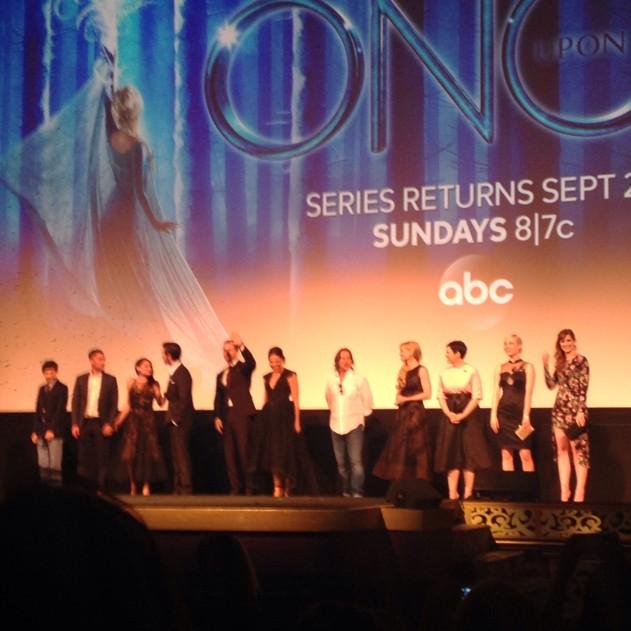 producers, gave intros to the current main cast, and also the actress' of the Frozen storyline, Georgina Haig & Elizabeth Lail (who E! says has an eerily similar voice to the animated Anna, Kristen Bell). Oh, and did I mention that they made it snow. Frozen is coming, why not make it snow in a theater?
Screening: After the screening occurred, a number of different sources, both fans and press, gave some teasers to the premiere episode, airing on Sunday. TVLine reported some teasers, including one about Neal/Bae (RIP) making some "sort of" appearance in the episode. E! Online reported about a "twist" with Regina and her love triangle situation. But, the most popular, comes from both sources who said that the moment many fans will enjoy is the Rumbelle, Beauty and the Beast dance featured in the promo. Posted today: you can watch the first 7 minutes of the episode online at ABC. I gave in, but only watched the diner scene.
Party: Of course, you can't have an epic, red carpet screening without a party. Cast members, the creators, writers, and ABC, all posted photos from the afterparty. Everything from OUAT-themed drinks (I'll have the Evil Queen's Poison Appletini, please), to cupcakes to cast pictures galore, so much was happening, that I certainly was envious of anyone there.
This has been a round-up of everything (currently) available, by publishing, about the El Capitan premiere, I'm sure more info will be released as the day (and week goes on).
Check out the ABC Flickr Page for many more pictures from the event!